I paint somewhat sporadically. Sometimes I'll do one painting every two months, sometimes I'll do 4 in the same amount of time. I tend to get the urge to paint, and then I HAVE to paint!
I dry my paintings in a sealed, dust free room. I tend to paint very thick, so sometimes my paintings take a month or so so to be dry enough to move out of the drying room (For the very thickest, it can take months to be completely set).
Here's some paintings that are drying. While the picture quality is high as always (thanks to my digital Olympus camera!), these pictures are generally shot in the drying room, so the angle can be a bit off...(click to get full image)
Leslie (4/6/04):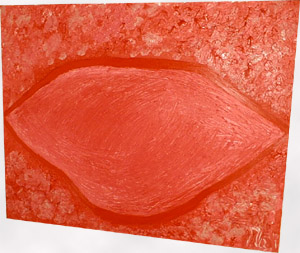 Escape (2/3/04)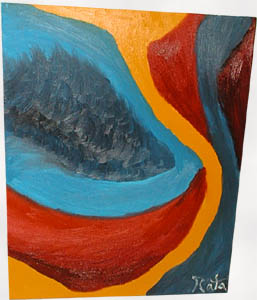 Here are two series paintings I completed last year, hung up (Series one is the top five, series two the bottom). This is the first time they've been hung together like this. Interesting how they compliment each other.